Farm/ Cattle/ Horse Livestock Scales




A&D Scales



Transcell Technology
Scales / load cells


Label Printing Scales
from $995
Products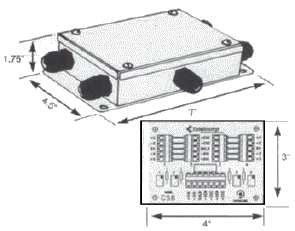 Circuit Description
Signal trim circuit will adjust the output of the load cell with a potentiometer and resistor shunted across the output of each load cell. Each load cell is isolated from the other load cells with 1000 ohm series resistors in the signal lines. These isolation resistors stop the adjustments on one load cell from affecting the other load cells.
Strain Reliefs
Five, corrosion resistant, nylon strain relief protect the load cell and instrument cable from being pulled from the terminals.
Enclosure
NEMA 4 stainless steel, rust proof, non-corrosive and suitable for use in the harshest environments.
Size
7" W x 4.5" L x 1.75" H - 2 lbs.
CSB card only - 4" W x 3" L x .75" H - 0.3 lbs

Revere
Transducer
Load cells

BLH
load cells



Wheelchair Scales

Click below to Translate our website into Spanish, Chinese, French, German, Italian, Japanese, Korean or Portuguese.