VS-660 scale with type A cage
(cage bolts to the scale)
$795 for the VS-660 scale and the cage


VS-660 scale with type B cage
(Round tubing cage with pins)
$845 for the VS-660 scale and the cage
VS-660 scale with type C cage
(cage goes around the scale)
$750 for the VS-660 scale and the cage
$299 for the VS-660 scale only

Free shipping to a commercial address with a dock or forklift
The trucking company charges an extra $100 to deliver to a residence, farm, school or remote locations


Choice of two cage styles.

Cage Type A: The cage bolts onto the scale

Cage Type B: The scale sits inside the cage. Galvanized Tubular metal with pins

Cage Type C: The scale sits inside the cage. Square Tubing

43" x 20" x 39" high (cage height)

Scale Dimensions: 43" x 20"

Overall outside Dimensions of cage type B: 35.5" at its widest point and 52.5" long

Easy to read LCD display

Weighs in both Lbs & Kgs

Capacity 660 lb x 0.2 lb / 300 kg x 0.1

Many Platform Sizes to choose from (see below)

Battery and Electric operation

Non-slip rubber mat included

Display has quick disconnect for the cable

Can be re-calibrated in the field at any time

Scale weighs: 40 lbs. Cage weighs: 70 lbs.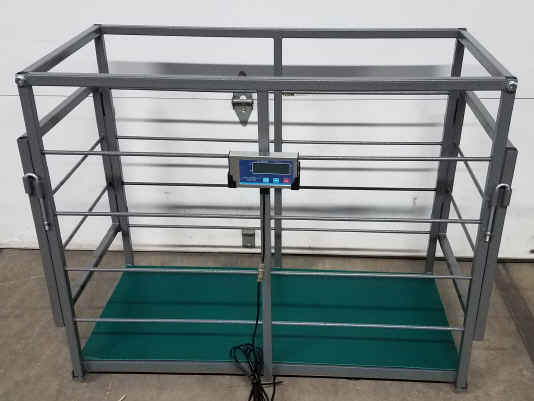 Type A Cage bolts onto the scale so if the animals lean
against the cage they will still be weighed accurately
Scale with Cage: $795 free shipping to a commercial address with a dock or forklift
(trucking companies charge $100 extra to deliver to a residence, farm or school)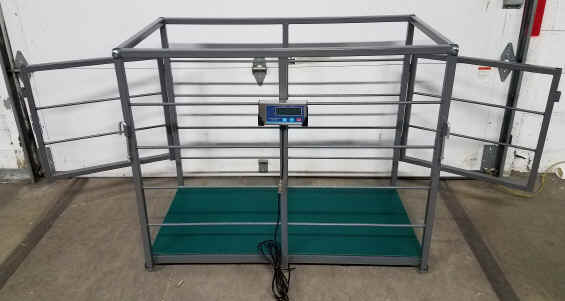 Cage Type A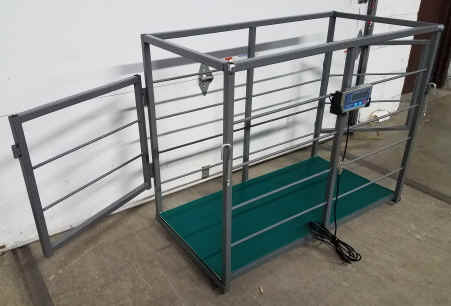 Cage Type A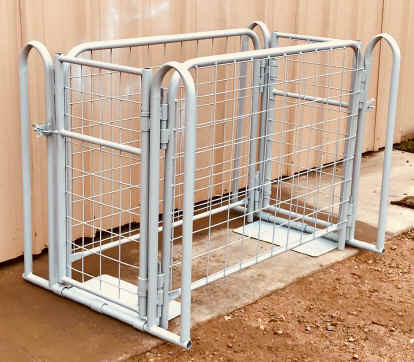 Scale with Type B Cage: $845 free shipping
Galvanized and painted. Disassembles with pins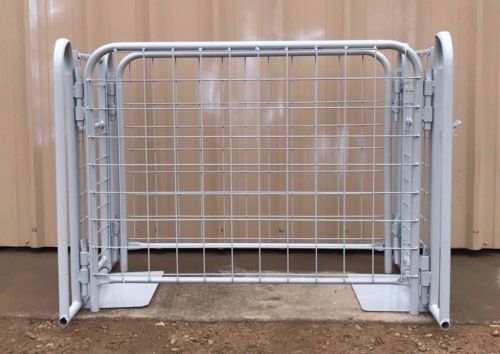 Cage B
Scale with Cage B: $845 free shipping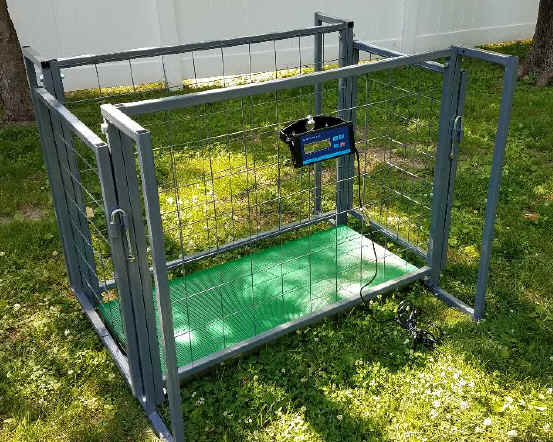 Cage Type C
Cage goes around the scale. Made of square tubing
$750 free shipping free shipping
to a commercial address with a dock or forklift
(trucking companies charge an extra $100 to deliver to a residence, farm or school)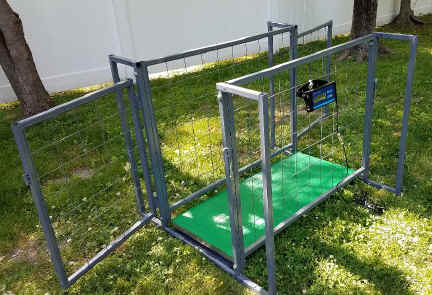 Photo of scale in cage Type C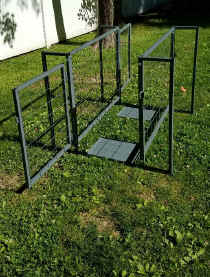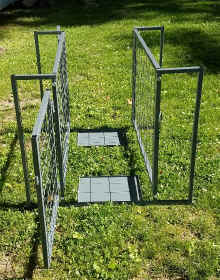 Type C Cage: Built-in lip for scale feet to rest on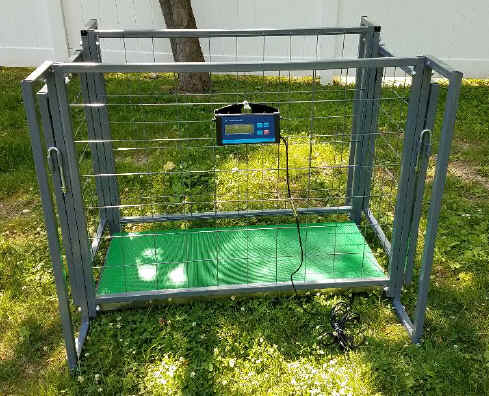 Type C Cage
Scale with cage: $750 free shipping
free shipping to a commercial address with a dock or forklift
(trucking companies charge an extra $100 to deliver to a residence, farm or school)

Free shipping in continental U.S. to a commercial address with a dock or a forklift
(trucking companies charge an extra $100 to deliver to a residence, farm, school, or remote locations)

| | | |
| --- | --- | --- |
| Vs-660 scale with Cage A (Bolts onto scale) | Price: $795 free shipping | |
| VS-660 scale with Cage B (Round tubing with fold down flaps & pins) | Price: $845 free shipping | |
| VS-660 scale with Cage C (Square tubing with fold down flaps) | Price: $750 free shipping | |
| Delivery to a non-commercial address | $100 | |
Free shipping in continental U.S. to a commercial address with a dock or a forklift
(trucking companies charge an extra $100 to deliver to a residence, farm, school, or remote locations)

Click here for scale specifications